Waterford Whisky – It should be no surprise at this stage that one of the most anticipated & eagerly awaited whiskies of the year thus far ( perhaps even the last 5 years ), has come from Waterford Distillery. After spending the few days trawling through Facebook posts and Twitter its clear that the understanding of such a release is a bit unclear. There are mixed feelings amongst the community, some feelings of sheer excitement as its the first of many releases from the relatively new distillery ( that we can get our hands on ), some of utter confusion that such a young whisky ( not a typo ) has grabbed some serious attention over the more "coveted and regarded" whisk(e)y brands that some of us are used to drinking. Regardless of what you've seen or read, its a special time in Irish whisk(e)y. The community is alive and kicking.
History
Nahhh you know me now, I'm not going to get into the history behind Waterford distillery, its owner Mark Reynier or his previous affiliation to a certain Scotch brand ( Bruichladdich ). You can read that in your own time, this post is about the Whisky ( again not a typo) and its….
Tēireoir
Terroir (/tɛˈrwɑːr/, French: [tɛʁwaʁ]; from terre, "land") is a French term used to describe the environmental factors that affect a crop's phenotype, including unique environment contexts, farming practices and a crop's specific growth habitat.
According to the Waterford Distillery website :
"TERROIR IS THE 3D INTERACTION OF SOIL, MICROCLIMATE AND TOPOGRAPHY ON PLANT GROWTH. TERROIR'S IMPACT CAN BE DETECTED IN FLAVOURS INFLUENCED BY THAT GROWTH."
As we go through the three whiskies below Terroir will become a little more apparent. Generally the term Terroir is more widely used in the wine world, but the same principles apply to Whisk(e)y production. If you would really like to get into the nuts and bolts of Terroir this TED video by Joe Butcher breaks it down incredibly, be warned its heavy watching.
Whisk(e)y
Firstly it should be noted that each one of these Whiskies has an age statement of roughly 3-4 years, so quite young to begin with. They are all bottled at 50% ABV and obviously they are all single malt Irish Whiskies. You should note that this is not a comparison of the three, each one of these Whiskies have their own unique identity, character, and Terroir and should be sampled with that in mind.
Ratheadon 1.1 Single Farm Origin – 50%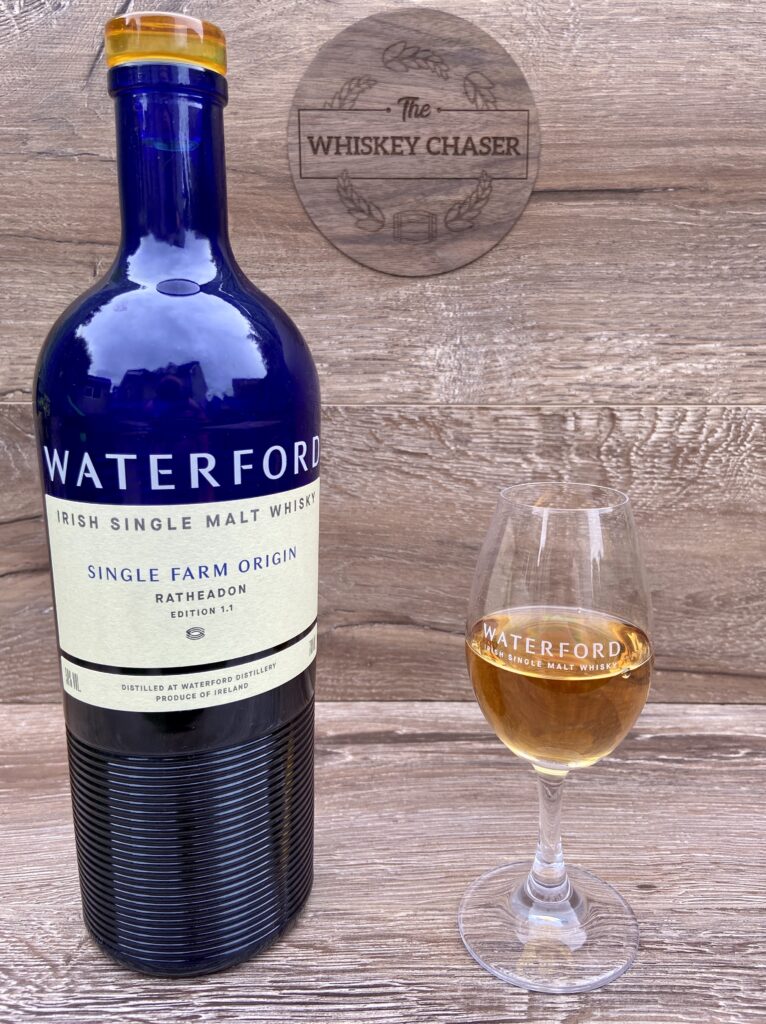 Terroir code F011E01-01 , Carlow based single farm Ratheadon is currently one of the hardest of the whiskies to locate. This is simply due to the fact that only 2000 bottles were released, and from that 1400 bottles available to the Irish market ( 600 held back at the distillery for now ), with very little of those bottles being made available outside of Waterford. So if you see a bottle pick it up, quick! This is literally like hens' teeth!
This is a 3 year, 9 months, and 5-day old whisk(e)y matured in a variation of first fill U.S. American Oak ( 35%), Virgin U.S. Oak ( 20% ), Premium French Oak ( 25% ), and Vin Doux Naturel ( 20% ) Which were married together on the 6th February 2020. Interestingly enough the barley variation is Irina with a fermentation time of 106 Hours. When you compare that to Ballykilcavan and Bannow Island fermentation times there is a considerable difference of 44 & 30 hours respectively.
First off the colour of this is beautiful, deep rich gold or even burnt amber. The glass is coated in a lovely thick oil and the tears/legs are prominent. On the nose it's very Malt/Barley forward at first, there is a lovely honeyed sweetness to it with a hint of mandarin/ orange zest, its subtle but it is there. In the background lurking is a hint of summer fruits mixed with some gentle spice. With the smallest drop of water, the Maltiness subsides a small bit to bring forward more of the honey and fruit notes.
Taste-wise I find this to be a bit of a spice beast, plenty of white pepper, way more on the palate than the initial nosing would have suggested, oily, well balanced with plenty of honey, there is a touch of Terry's chocolate orange to it although that's very subtle.
The finish is long and sweet with the spice staying around for quite a bit in the throat and the sweetness towards the middle of the mouth. Beautifully tapers off and leaving no bitterness.
BallyKilcavan 1.1 Single Farm Origin – 50%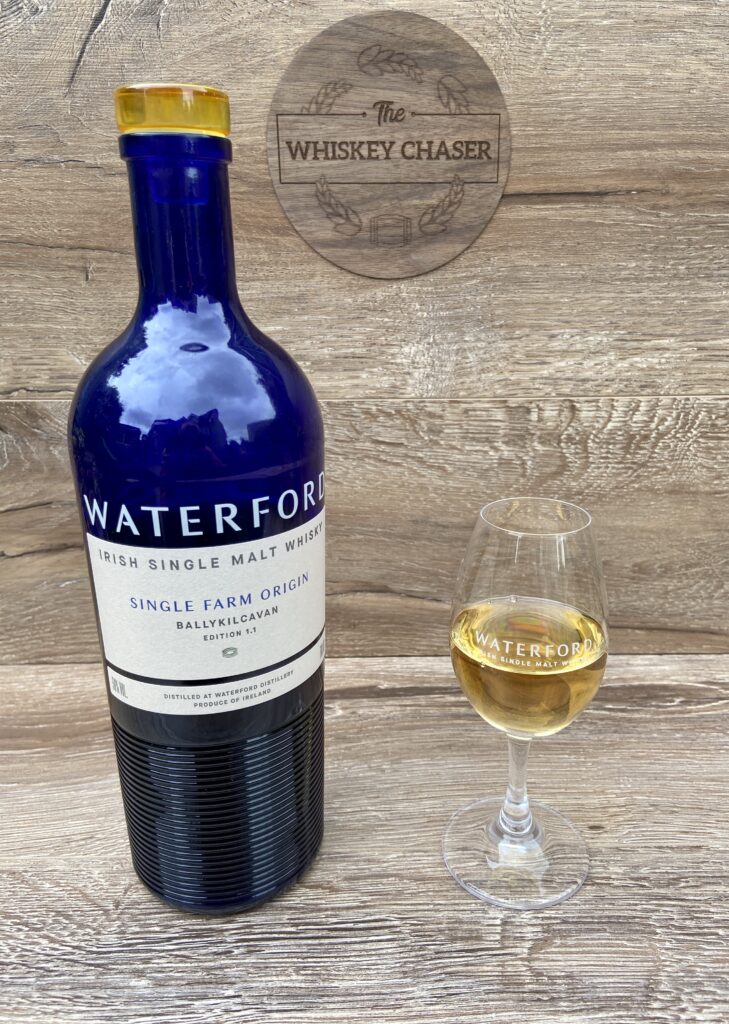 Terroir code F002E01-01, This Co. Laois single farm was released first along with Bannow Island. There were approx 8,640 bottles upon initial release and they sold out in the majority of Irish retailers in minutes!
This whisk(e)y is slightly older coming in at 3 years, 11 months, and 18 days, and fermentation times are one of the highest of the three whiskies here at 150.5 hours. Type of Barley used is Taberna and the cask composition for maturation is slightly different using more first fill U.S. casks and no Virgin U.S. casks ( due to the fact that there was none available at time of filling ) and these casks were married together on 5 February 2020. The breakdown is first fill U.S. American Oak ( 45%), Virgin U.S. Oak ( 0% ), Premium French Oak ( 37% ), and Vin Doux Naturel ( 18% ).
The colour here is more a yellow gold or golden hay, again very heavily oily with thick legs standing out on the glass. On the nose fresh-cut hay, grapes & grapefruit, honey, and an incredibly soft earthy tone to it.
This has a very oily mouthfeel, sweet honey, toffee and plenty of spice, hint of cinnamon, and a lovely maltiness to it. A drop of water simply opens up its sweetness a bit more.
Long-lasting and malty finish, sweetness evolves into a slight bitterness leaving a dry mouthfeel. even after a few minutes, I can still get the oily residue leftover from the single malt.
Bannow Island 1.1 Single Farm Origin – 50%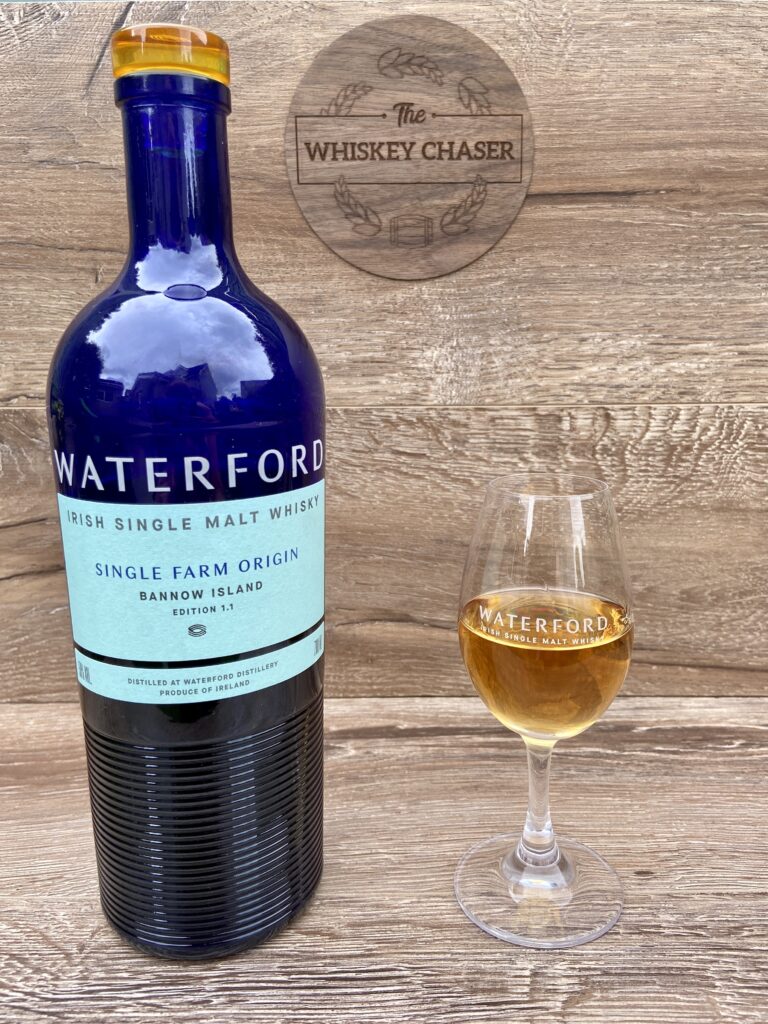 Terroir code F014E01-01, Based in county Wexford, this single farm was released along with BallyKilcavan. Again a big release with 8,616 bottles available which, like the above, was sold out in a matter of minutes in off-licenses across the country. If you were lucky enough to get a bottle or even a sample you will begin to see how different all of these releases are from one another.
This whisk(e)y was matured for 3 years, 7 months, and 28 days, slightly younger than its cohorts. The type of barley used was Overture with a fermentation time of 136.2 hours and the casks married on the 7th of February 2020. The cask composition for this particular single farm release is different from Ballykilcavan but similar to Ratheadon, the breakdown is first fill U.S. American Oak ( 35%), Virgin U.S. Oak ( 20% ), Premium French Oak ( 25% ), and Vin Doux Naturel ( 20% Oloroso ).
A lovely dark honey colour here edging on deep amber, just as oily as the previous whiskies if my glass is to go by, serious hang time with the legs on the glass. The nose is quite different here, more salted caramel, dried fruits, vanilla, freshly cut hay, very slight maltiness in the background mixed with buttery biscuits. Really pleasant & inviting nose to it.
On the palate there is again plenty of white pepper spice and mouth-coating oiliness, that salt characteristic is still very much there will the caramel, lovely sweet sherry, and malt.
Once again a lovely long-lasting spicy-sweet finish with an oily residue left behind, the mouth dries out a fair bit again and I'm left with a lovely bitter malt flavour on the tongue.
Dig Deeper
I would highly suggest that you click the associated links with each whisk(e)y above to see their Terroir file. From the Barley to the casks, from the harvest dates down to the soil composition and even the sound file, yes that's correct they recorded the sound of the fields. All the information and traceability are there. I'm not entirely sure you could be more transparent or information-driven if you tried. Even if you aren't a whisk(e)y nerd and you just want to drink and enjoy what Waterford distillery has released, then do, but for shits n giggles have a look at the website, its mind-boggling.
Money talks indeed, and these whiskies come in at around €70-€80. Pricey enough when you consider that not one of these releases is aged more than 4 years. But, and its a big BUT, you would be amazed at how well balanced and non-aggressive these whiskies really are. They have the characteristics and body that would rival most older statement single malt whiskies, and that is a big statement to make. The engineering and development that has gone into the distillery to be able to produce single malt whiskies of this standard are partly visible from the information they provide in the Terroir links! There was clearly no holding back with development.
Fin
At the time of writing this article, there were only the above three releases available to the general public. However, there have been a number of Single Farm Origin labels approved by the US TTB and word has it a number of other bottles to be released in "other markets" before the end of the year. Its no doubt an exciting time for Irish Whisk(e)y. I would suggest, if you're on Facebook, to head over to the " Friends of Waterford Distillery" page and join up. There are some great chats, articles, and behind the scenes knowledge from the group and there is plenty of interaction daily. If you want the latest news on the distillery then that is the place to keep an eye on.
To finish up, In my opinion, I wouldn't let the price of these bottles deter me from purchasing, sure they are young, but what they lack in age they make up for in flavour, they are seriously good and its quite apparent how much work has gone into producing these. If I was to pick a favourite, and maybe I've spent a little too much time "sampling" these, I would have to say that out of the three releases Ratheadon is the one that does it for me the most. Would I say that I am a believer in Terroir? YES- Absolutely. The proof is in the bottle. Until next time, Sláinte.
FOR THE SAKE OF TRANSPARENCY THIS REVIEW WAS IN NO WAY INFLUENCED BY ANY OUTSIDE PARTY, ALL THESE BOTTLES WERE PURCHASED BY THE AUTHOR.