One would agree that from the drinks industry its been a long hard slog the last few months, guild/society events on hold, visitor centers and distilleries shut down, tour cancellations, and pretty much all manner of socialized events where some form or type of crowd is involved has been non-existent. Lest we forget the majority of on license trades who aren't fortunate to be in a position to serve food have been shut too. Understandably so as the COVID 19 pandemic rages on, Government restrictions in place, and the reluctance from most people to not want to gather in groups. But when I got word that one of my favorite watering holes, Paris Texas , in my home town was set to do a Whiskey tasting night with the Kilkenny Whiskey guild , in house, I can only say that I was ecstatic and used a few choice words to voice my excitement, I won't repeat them here but I was one happy chappy. I think I was even happier when I learned it was Irish Distillers that we would be sampling on the night.
Now it's obvious there was questions straight off the bat, what brand, who was speaking, what kind of event was it, how long was it going to be, can we have a few sociables along with the whiskey, will there be food. To say mums the word would be an understatement. The powers that be were extremely tight-lipped and not forthcoming with the information I wanted, and as an incredibly nosey person, I used my best detective work to gather what information I could, merely cause I'm a nosey b*stard and wanted to know for myself. What became immediately apparent to me was that I would never make a good or even a bad detective or investigator. There was no information I could gather anywhere or from anyone, everyone was sworn to secrecy, which for a lad like me is obviously wonderful (sarcasm). As luck would have it, it was more a case of right place and right time as I just so happened to be walking in town one day, behind a staff member, who was chatting with another staff member, about the upcoming guild event. I wasn't so much listening as they were talking extremely loud but the words, 21yr old, Cask strength, Ruby port, and the dead give away – Ger Garland was mentioned. That's right, REDBREAST baby! So the pieces were starting to fall together nicely for Briano.
Hold up, wait a minute, something ain't right, RUBY PORT????
Here was me questioning could it possibly be the Redbreast 27 Ruby Port is making a debut, I mean it is part of their core range now, not for one second did I think that it could be the 28 yr old Dream Cask that was being showcased, however, I remembered back to a guild event in 2019 when the world wasn't falling apart and recalled how I was fortunate to be able to sample the 20 Yr old Dream cask at such an event.
Phone out, text sent. 30 seconds later ( approximately ), " Hennessy you'd make some detective " was the reply, which is basically a confirmation without actually confirming what wasn't already confirmed, basically.
The date was set, the emails sent out, and the announcements made. The First post lockdown Kilkenny Whiskey Guild Event for 2020 would be a Redbreast tasting with "special Guests", hosted by Ger Garland and held in Paris Texas Bar.
Needless to say, I made certain I would have a ticket for this, I was not about to miss out. Now I'm more used to an event where we sip Whiskies obviously, a chat from the Ambassador / Owner about said Whiskey, their story, their journey Etc, and a few food samples towards the end with a Whiskey infused theme. What I got was definitely for me, a first, a Whiskey and food pairing. How posh are we in 2020!?
Before I get into the meat and potatoes I just want to give a shout out to the management and staff in Paris Texas, from start to finish it was an epic guild event, from the food and drink down to the safety and atmosphere. Everything was 100%, they were determined to nail this event on the head with the lingering COVID 19 issues in the air, they came out on top, fair play and well done all!
In the interest of health and safety you should note that this event was held before the government introduced new tighter restrictions around COVID 19, all guidelines were strictly adhered to that were set forth at that particular time.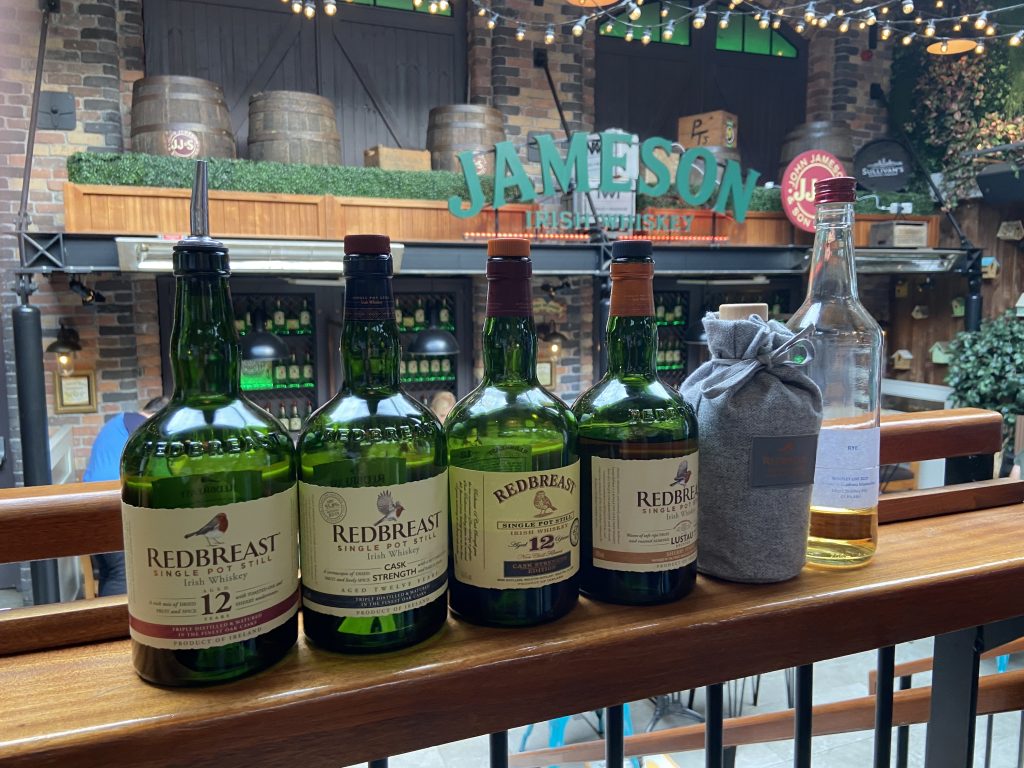 APÉRITIFS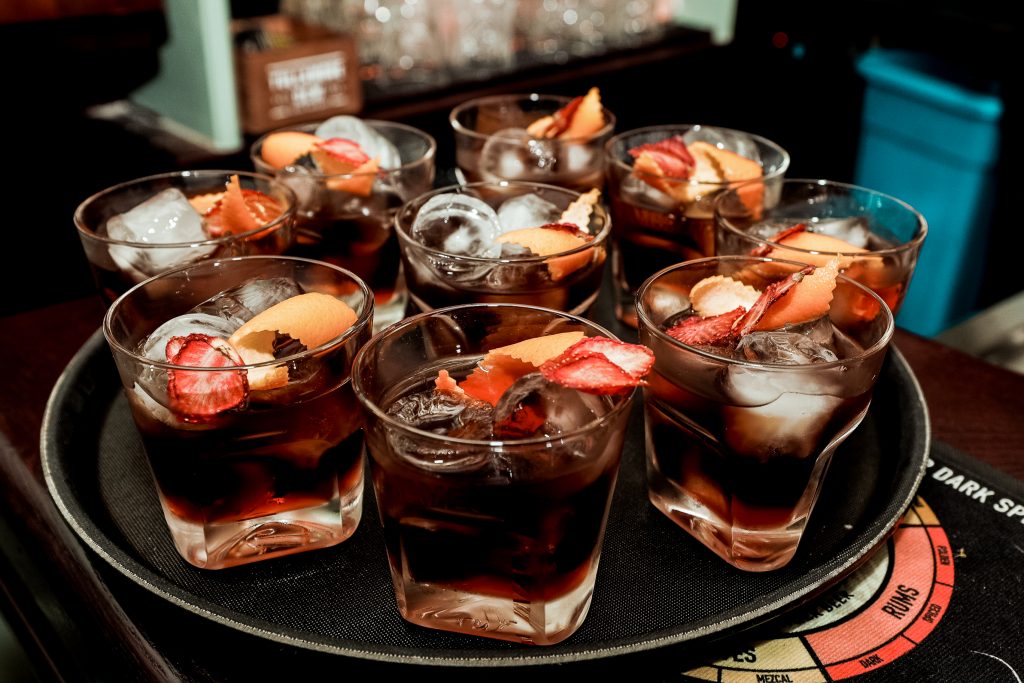 It wouldn't be a guild event without some form of a Whiskey infused/themed cocktail. This was no different. To wet our palettes and get us in the form we were introduced to the Velvet Old Fashioned. A different approach to the standard old fashioned, using a combination of PX sherry infused with Jameson Irish whiskey married together for 4 weeks in a mini virgin oak cask that had previously been seasoned with PX sherry for 7 months. Add orange bitters, cane sugar syrup, and a strawberry orange garnish and viola, the Velvet Old Fashioned. I'm typically not one for cocktails but this was nicely balanced apart from it being a touch on the sweet side. But I put that down to my personal preference. It was a refreshing start to the evening.
FIRST COURSE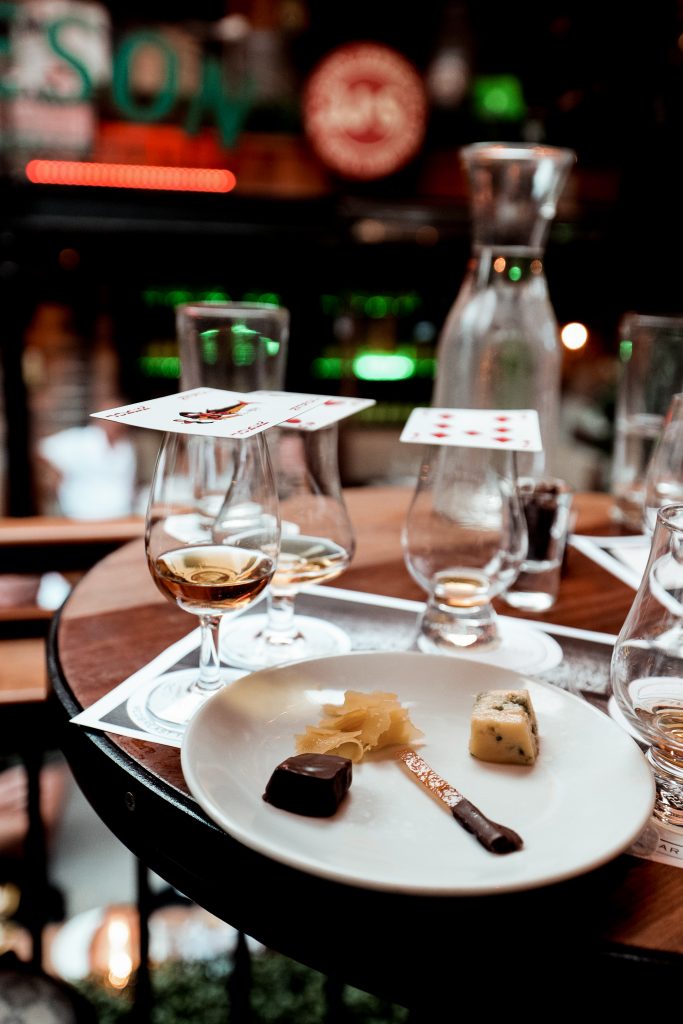 The classic Redbreast 12-year-old 40% ABV, paired with Truffle Fairy Redbreast Whiskey truffles and chocolate-coated candied orange peel. This Whiskey needs no introduction as its well known amongst Whiskey drinkers/enthusiasts and has a number of accolades behind its name. The Truffles were a little off-putting for me at first as it was dark chocolate (admittedly I hadn't tried them yet), not a huge fan of dark chocolate as I tend to find it too bitter and overpowering. However, I shouldn't have been so hesitant, the truffle along with the orange peel was incredibly delicious, paired with the RB12 I found it brought out certain nuances in the whiskey I hadn't really noticed before, more flavors and sweetness from the sherry influence and definitely more of a nutty/wood note coming through, paired with the bitterness of the chocolate the finish was incredibly moreish and deliciously well balanced. Not too sweet, but full of lasting flavors & very very rich, it's definitely something I will try again in the future.
SECOND COURSE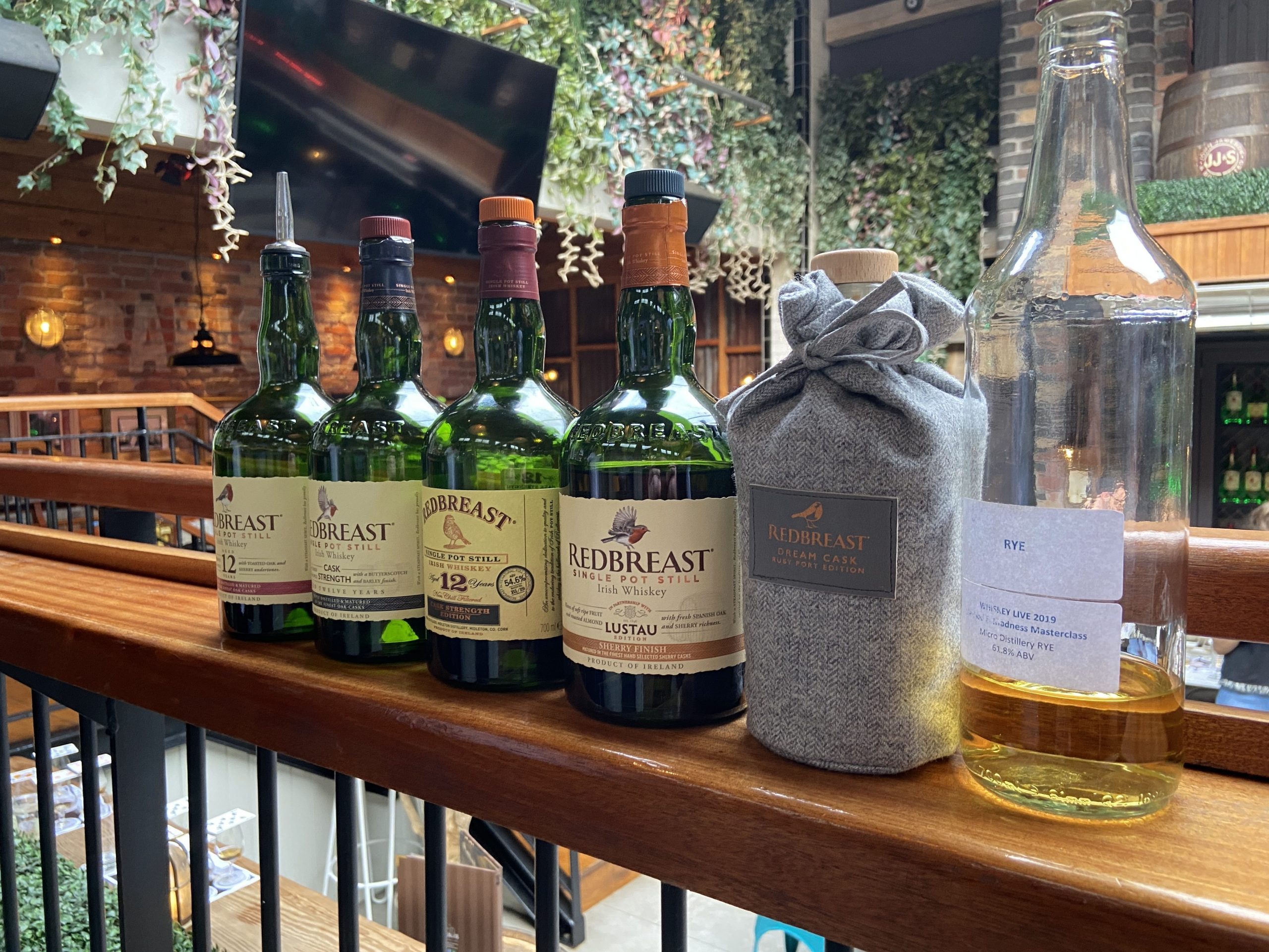 A Midleton Cask sample direct from the "Micro" distillery within Midleton, which is not so micro when I learned that it was the fifth-largest distillery in Ireland! The Whiskey in question was a triple distilled Rye Whiskey that was grown entirely in Wexford (Hmmmm) that was just over the three-year-old mark and at a cask strength of 61.8% ABV. This powerful little gem was to be paired with Little Green Grocer Mature Mount Leinster Cheddar and Cashel Blue Cheese. Now obviously the Whiskey was at a very high ABV and water was on offer to bring the ABV down a touch, but I opted out of this as I wanted to get the full effects of the pairing with the cheese. The sample was obviously young so there was this strong spicy bitterness to it but had a lovely butterscotch/vanilla/soda creme flavor also. Bring in the two kinds of cheese and we begin to see why this sample was selected. First off the spice mellows right out with the Blue Cheese, the two contrast each other nicely because the cheese itself is bitter, pair that with the sweetness from the Whiskey and you get more of a vanilla tone on the finish. With the Cheddar, there was a much more complimentary balance between flavors and the bitterness was more pronounced but with a much more pleasant tapering off towards the end, I found I was left with a more rich smooth bitterness that was pleasant and not overpowering.
THIRD COURSE
2016 & 2018 Irish Whiskey Gold medal winner and 2014 overall winner best Irish Whiskey of the year, Enter the Redbreast 21-Year-old. The finest representation of the signature Redbreast sherry style. The 21-year old gives us this richness and complexity that is undeniably a signature expression in the range, and personally my favorite. This particular Whiskey was paired with a tremendously flavorsome Whiskey Glazed Pork Belly pop. Deservingly so this whiskey needed something complex to go along with it, a food pairing that would be both robust and, yes, full of flavor. The glazed pork belly did not disappoint, really complimented the sweetness and stoned fruits of the RB21, Not overly sweet but certainly with the whiskey glaze added another depth to it. The creaminess of the RB21 complimented the earthy tones from the pork and left a lovely fatty/oily residue on the palette. As Ger Garland described it – "A More-ish Pairing".
FOURTH COURSE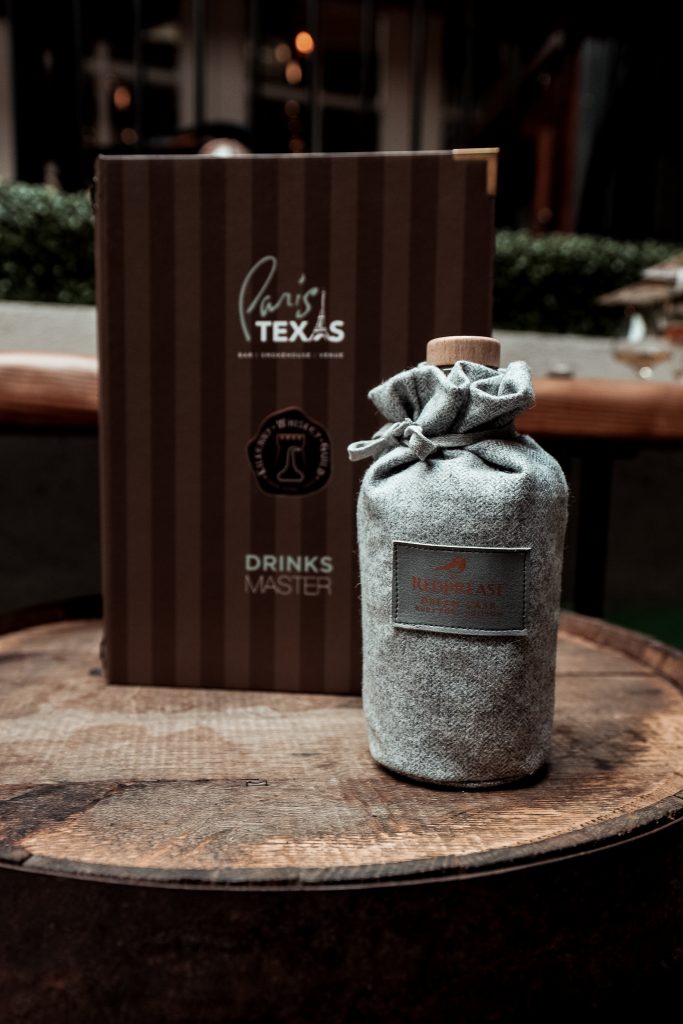 To me the star of the show and highlight of the evening. Ladies and gentlemen, the Redbreast 28 Dream cask, Ruby Port Edition. It s been incredibly hard to get samples of this Whiskey on any of the usual channels, either people don't want to share or they've seen the increase in the value of the previous releases and don't want to open the bottle, which is a shame. Unfortunately, I was not one of the lucky few who won a ballot to be able to purchase this extremely rare Whiskey. So situations like this are one to be cherished. The food pairing was with Foie Gras. I did have a small bite of the Foie Gras to go along with the RB28, but it was very small as I did not want to impair my judgment on the full flavors of the Dream Cask alone, which is after all one of the main reasons why I attended the event. The official words from Billy Leighton on the 28 Dream cask are: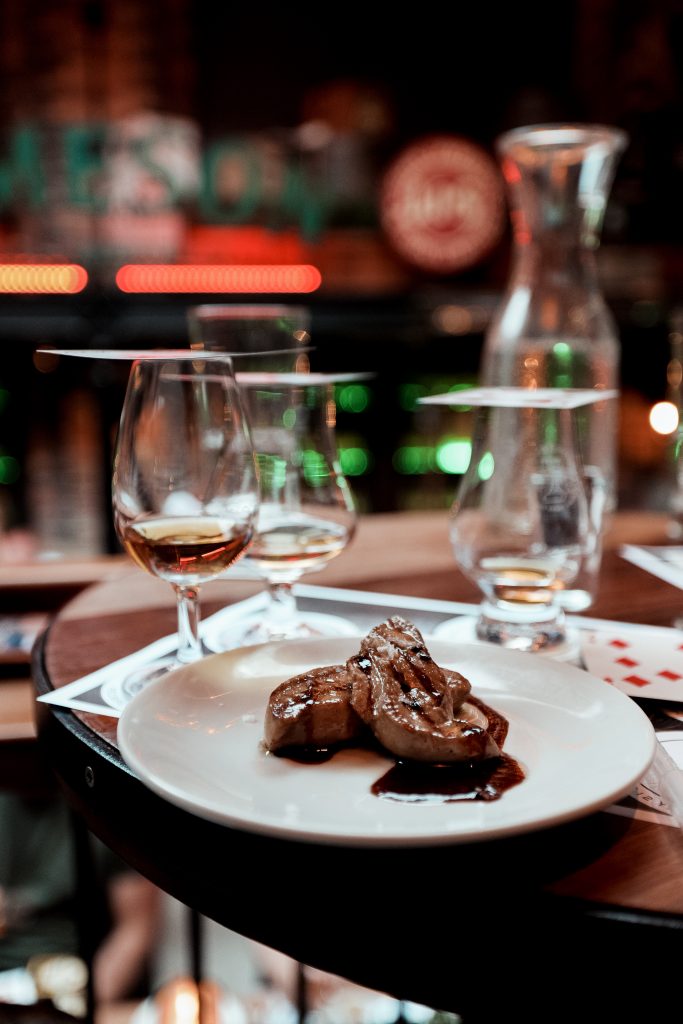 "In our quest to find interesting new expressions to add to the Redbreast family, we do various trials and create prototypes along the way. We thought we should share this Dream Cask offering which is the product of one of these great adventures. When we first considered the use of Ruby Port seasoned casks, we vatted a small batch of carefully selected mix of Bourbon, Sherry, and Port casks, then re-casked a portion into this Port cask to marry for a finishing period."
I'm not biased but this Whiskey was out of this world good! Complex, well balanced, full-bodied, all the right spice & sweetness delivered perfectly in a cask strength 56.1% ABV package. The influence from the fortified wine casks is huge here as the fortified casks made up the majority of the components gone into the 28.
Visual: Auburn/Mahogany meets deep copper.
Nose: Very rich and well balanced, caramel, Demerara sugar, chocolate orange, with some light spice at the back, not overpoweringly sweet, dried banana, Vanilla.
Palette: Rich and creamy, luscious, zesty, Redbreast spices, raisins, figs, dark fruits & berries with a stunning oily mouth-coating, the spice is well balanced with the sweetness from the dried fruits.
Finish: Long-lasting, tapers off incredibly well and leaves a lovely sweet tone on the back of the tongue, very savoury, plenty of that Redbreast signature flavour makes you long for more.
One word to sum up this Whiskey – WOW. What an incredible drop. And totally different from everything we tasted on the night, yet undeniably Redbreast!
FIFTH COURSE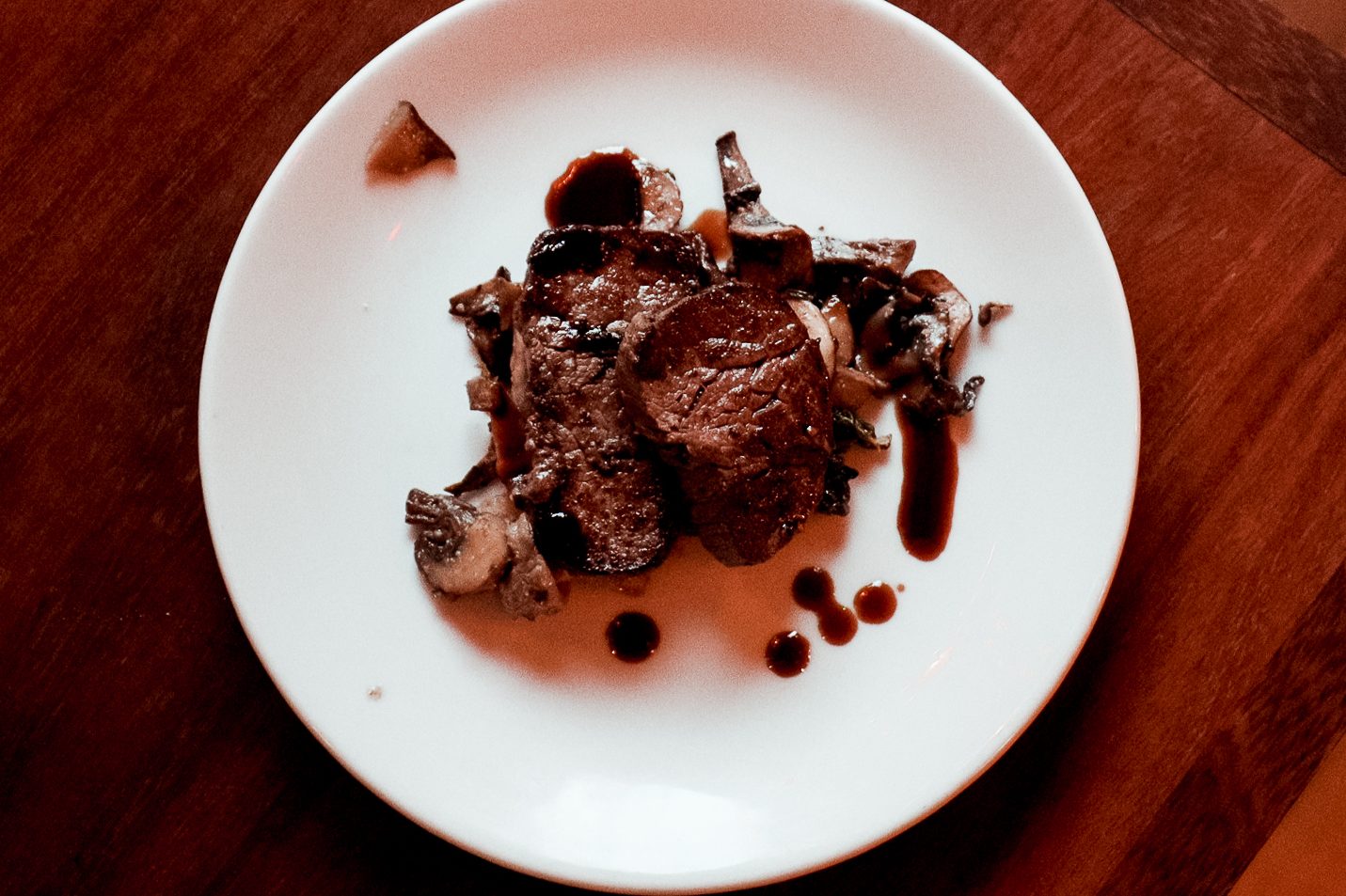 I won't lie after the RB28 I didn't know what to expect, and I was pleasantly surprised to see we were going to finish with the Redbreast Cask strength Batch 2-2019 at 55.8% ABV. The point was made on the night the reason we finished with this sample was that, even though it's not the highest ABV whiskey in the lineup, it is by far the "punchiest" that was on offer. In other words, literally kick ass! Basically the RB12 on steroids. An incredible Whiskey that was paired with rare fillet beef disks! Really this speaks for itself, Cask strength Redbreast and fillet beef! Mouthwatering, rugged, and earthy. Sweet and savory patting each other on the back for a job well done.
DIGESTIF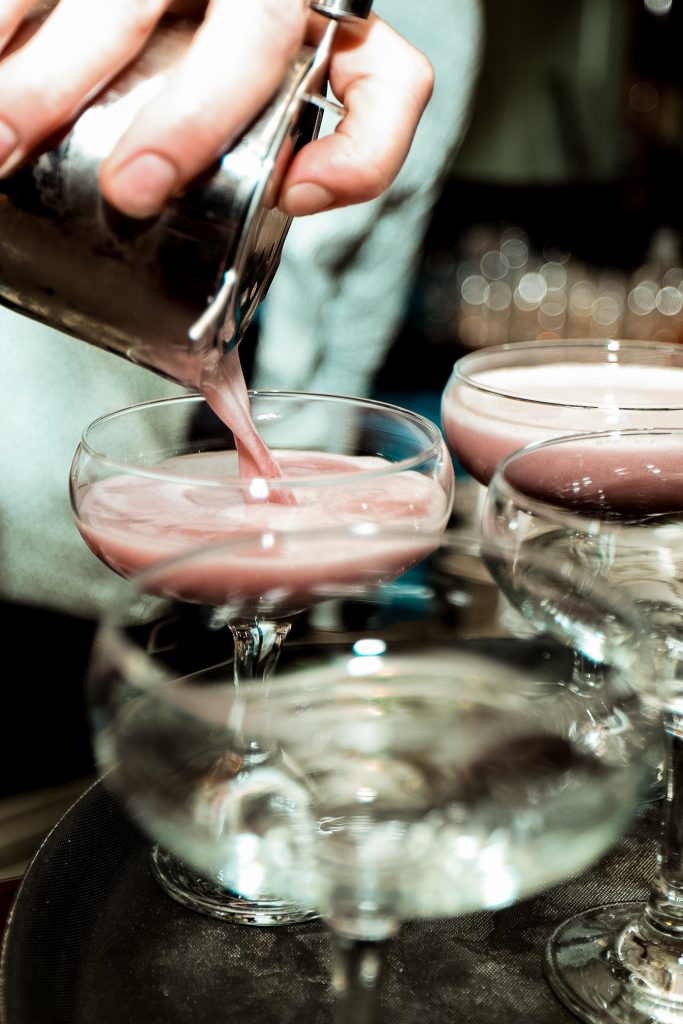 As if the above wasn't enough, the Whiskey, the food, and of course the atmosphere, there were two final treats for us to enjoy. Firstly a Banana Fosters, which, if you haven't had and you like Banoffi than I would seriously suggest you get 2, or 3, or however many you can stomach. Basically Bananas flambéed in butterscotch & Redbreast 12 year old. I may have had more than 1.
The final treat of the evening was yet another cocktail. This time a Blueberry Sour! Which is Jameson, Blueberry Real (syrup), lemon juice, egg whites & two dashes of cherry bitters. At this stage, I was nearly comatose with all of the offerings of the night. Both the final cocktails were delicious and sweet, Which was nice considering all the high ABV Whiskey I had previously consumed.
IN THE END
I can only sum up the evenings' events by describing it as a once in a lifetime type scenario that really explores and uncovers not only new experiences, but new whiskeys, new concepts (for me), new flavors, and indeed new standards, lol. Again my hats off to all involved in the guild behind the scenes, Ger Garland, IDL, and of course the management and staff in Paris Texas for an outstanding evening of food, drink, and Craic. Until next time, Sláinte.
If you'd like me to cover any of your events please contact me at info@thewhiskeychaser.ie
For more information on the Kilkenny Whiskey Guild https://www.kilkennywhiskeyguild.com/
For bookings, reservations, drinks menus and general information https://www.facebook.com/ParisTexasBar
In the interest of transparency and fairness, I purchased my own ticket to the guild event above, all opinions are my own and were in no way influenced from any outside parties.